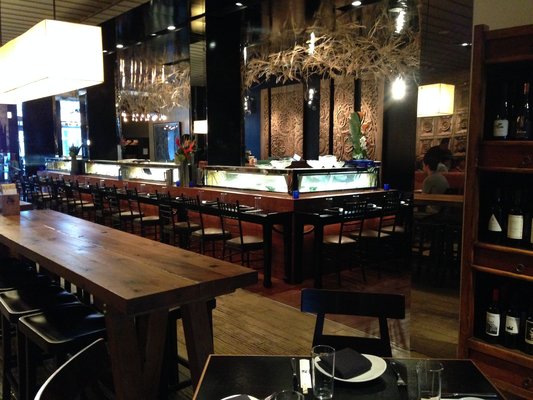 *** (3 stars)
I had high expectations for Sunda, and they were met in some areas, but not all.
The best item we sampled was the Crispy Brussels Sprouts, a superb house specialty; thin slices of broccoli are almost toasted, then tossed with red cabbage, carrots, chilies, fried shallots, and minced shrimp and served with nuoc cham (a rice wine vinegar dressing). I couldn't stop eating this!
Tiger Shrimp Tempura was interesting in that it was served with candied walnuts, but the creamy honey aioli was really slathered on and made it very rich.
"Grilled Spare Ribs" are actually Korean style kalbi ribs, not my favorite.
Sushi was less inspiring. We tried several house special rolls, and none was greater than the sum of its parts. Spicy Salmon Shiso was particularly odd, with very finely ground salmon tartare and a dollop of sriracha on top of a thin slice of jicama and a shiso leaf. The ingredients were fine when picked apart, but the combination was a bit of a mess.
The wine and beer list in interesting, with many selections, including some excellent Champagnes, available by the glass. The space is stylish and vibrant, and the service was efficient, if not inspired.
Sunda
110 W Illinois St
Chicago, IL 60654
(312) 644-0500
http://www.yelp.com/biz/sunda-chicago