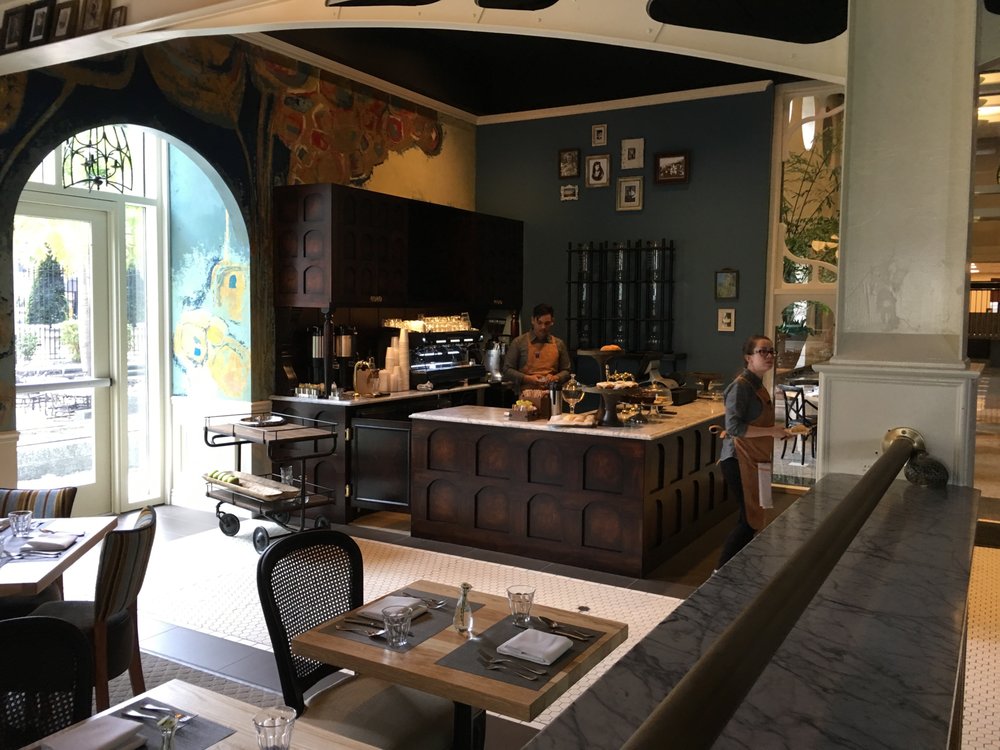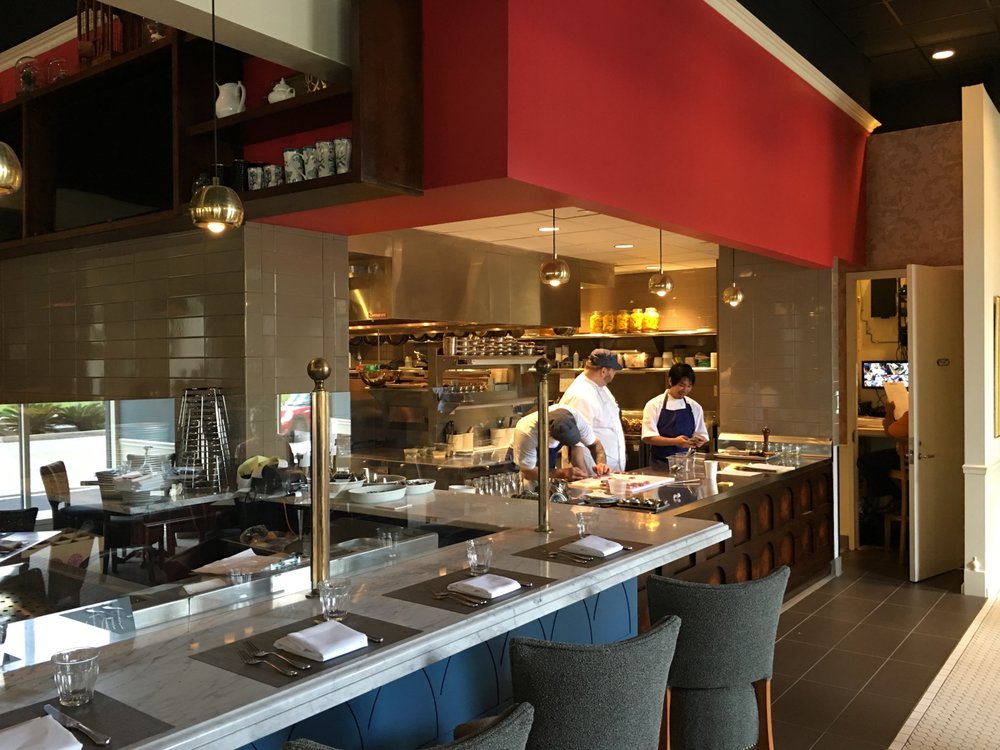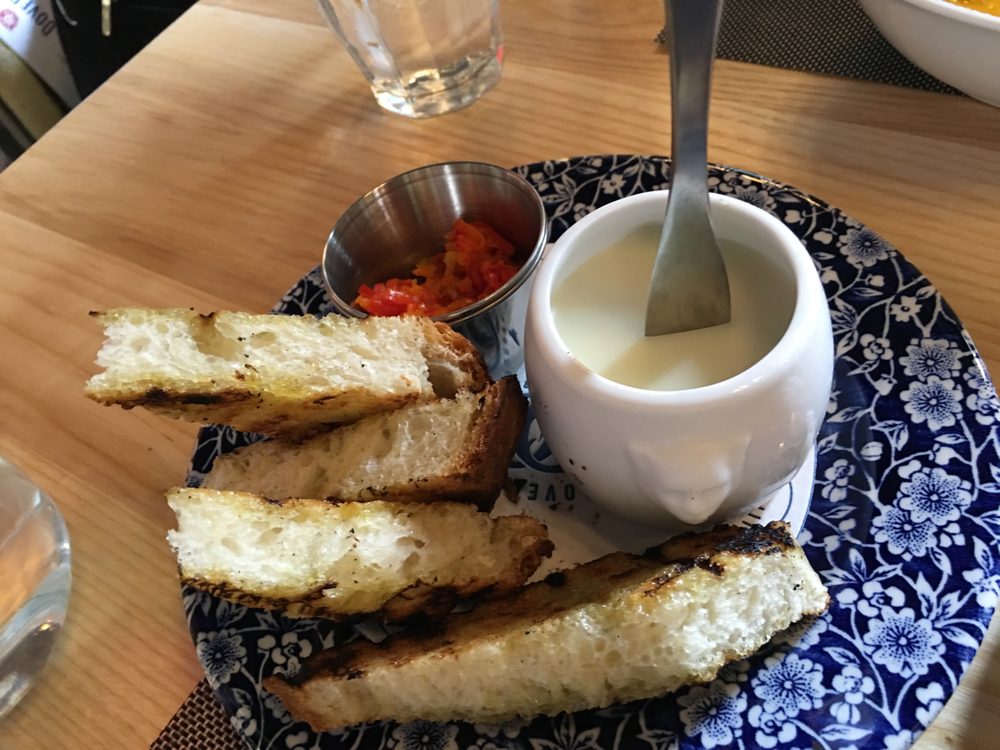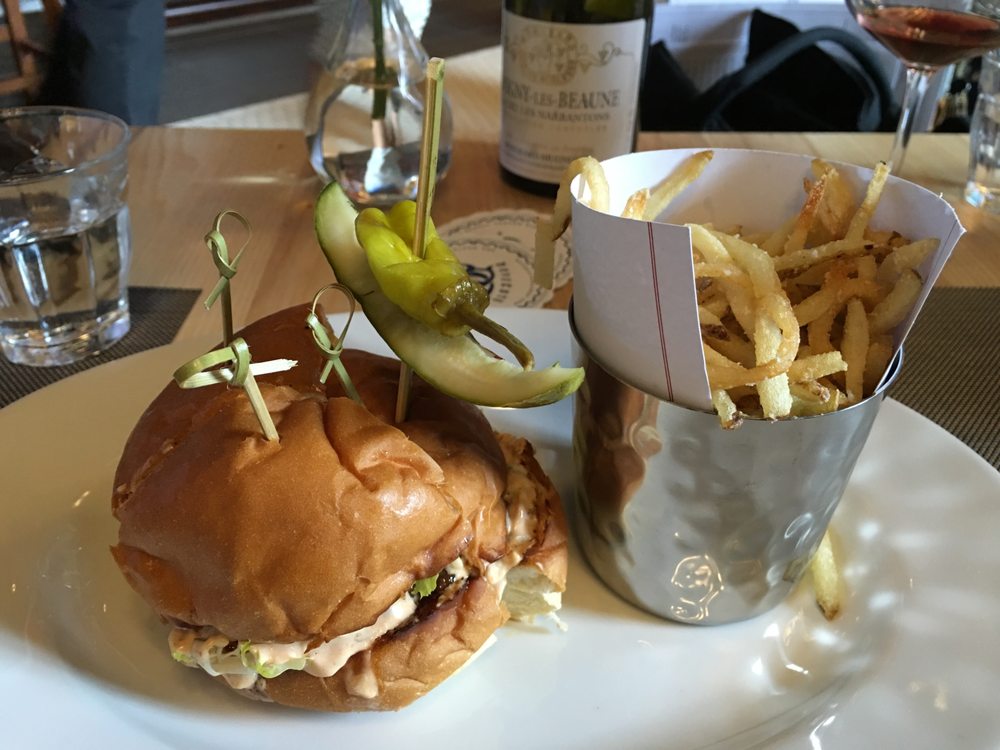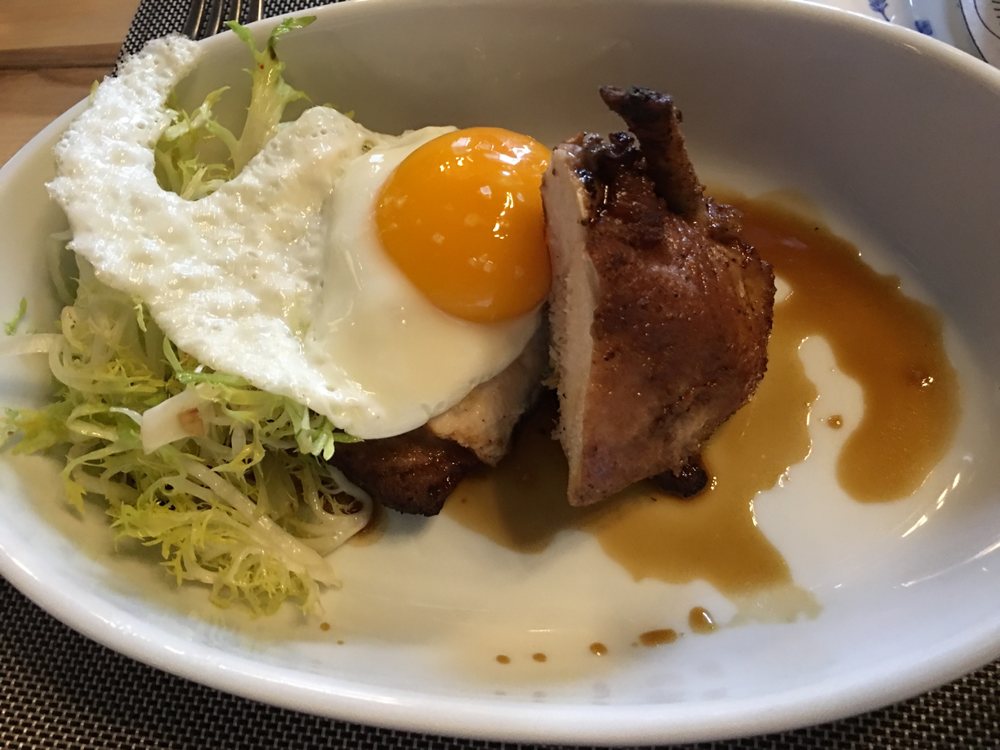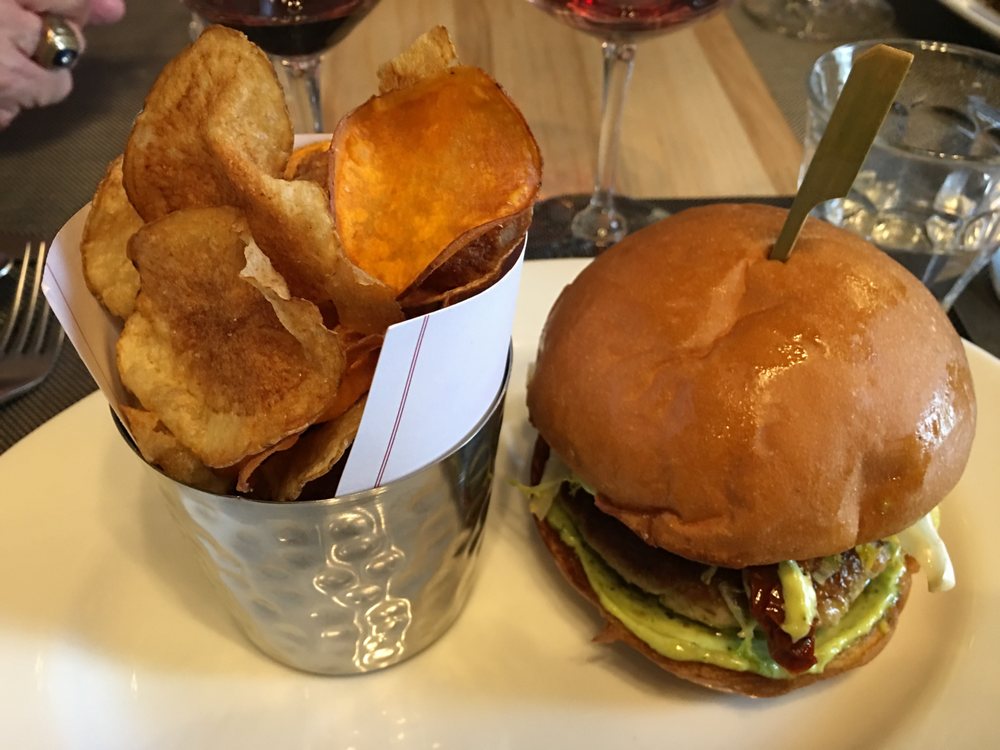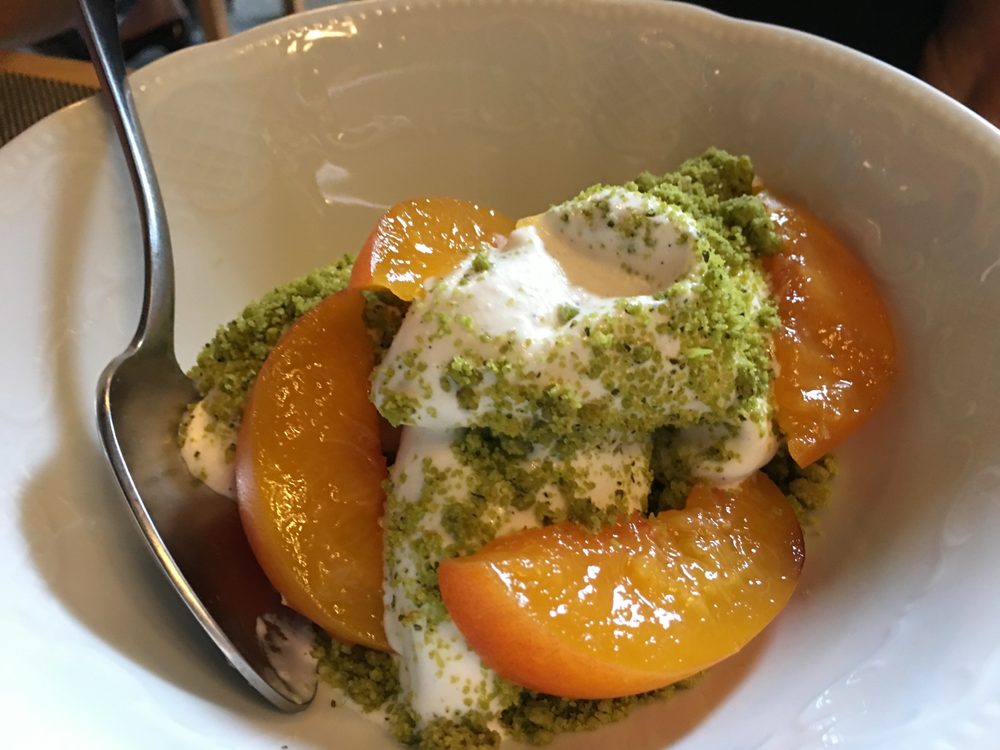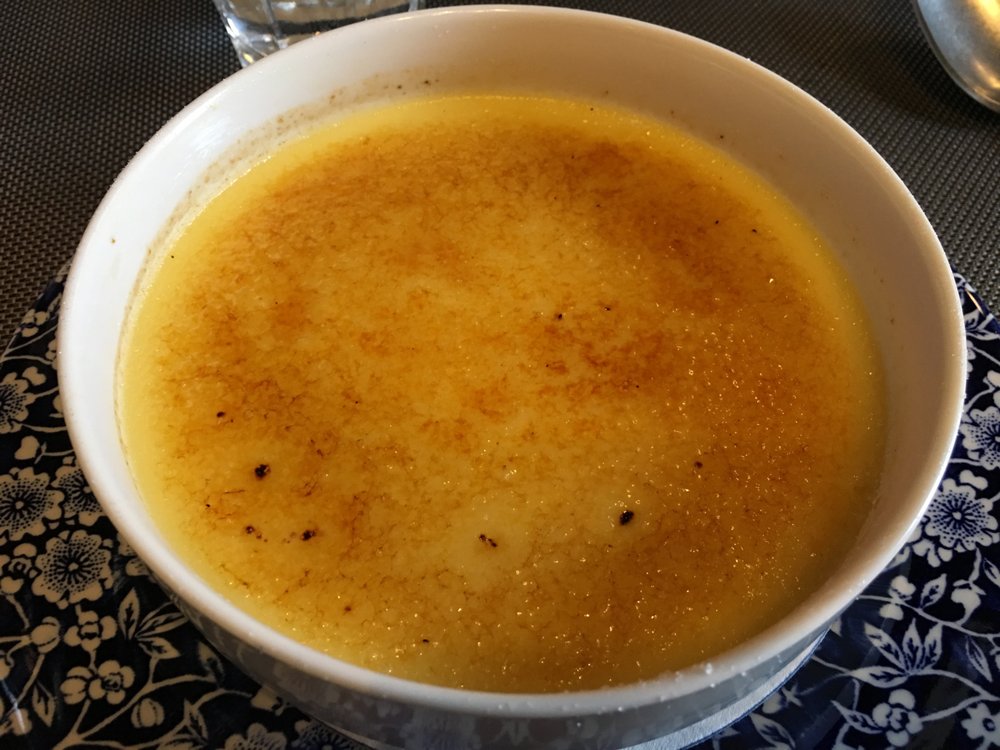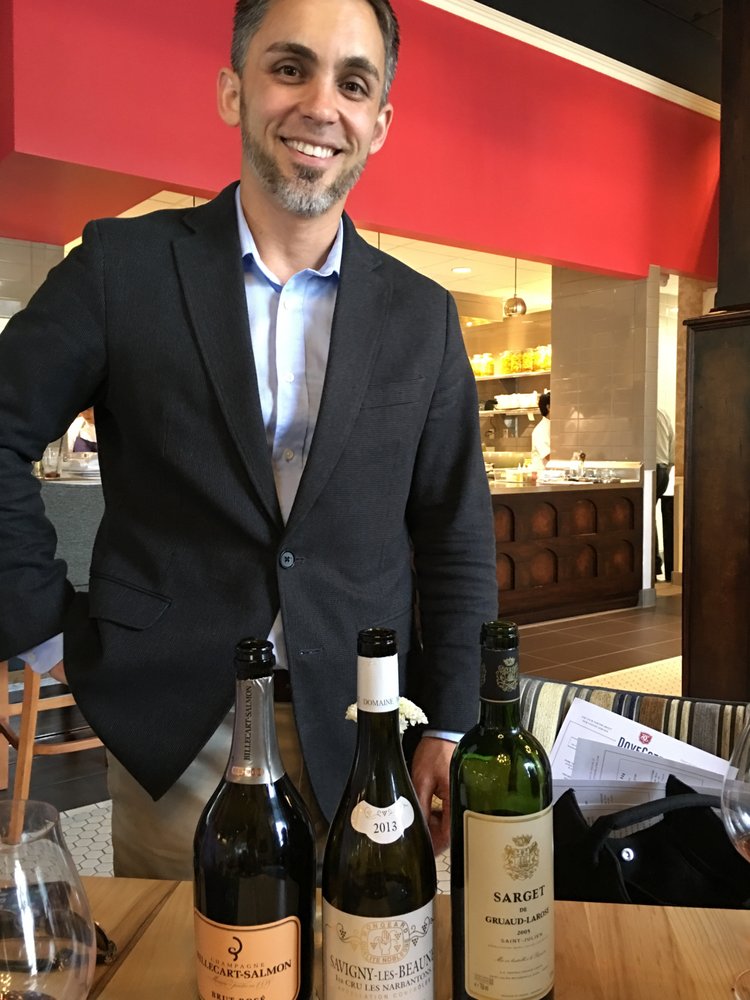 ***** (5 stars)
Downtown Orlando has long been in need of a great French restaurant, and at last there is one. We attended a soft opening lunch with high expectations, and were not disappointed. Even though the restaurant was full, the kitchen was turning out hit after hit, and service was both friendly and professional.
The space is the former Harveyr's bistro in the bottom of the B of A, but it has been remodeled to give it a modern brasserie feel. In addition to several inside areas, there's also outside seating. The best addition is free valet parking, right outside the side door, which solves a major downtown dining problem.
We had an opportunity to sample much of the lunch menu, and loved most of what we tried.
Chicken Liver pate was very traditional, with the coating of duck fat on top to seal it into its jar. The highlight of this dish was actually the grilled toast, which was perfectly and authentically done in the brasserie style.
This same wonderful toast accompanied the even better pork terrine, which came with a wonderful house-made mustard.
Carrot soup was a thick, cold concoction poured over cooked shrimp. We heard good things about it, but none of us cared for it, possibly due to some flawed sesame seeds that were sprinkled on top.
French onioin soup was much better, completely traditional, maybe a bit sweet for my taste, but with a rich oxtail broth and plenty of gruyere cheese. The horseradish mentioned on the menu may have added complexity, but wasn't detectable.
I loved both of the salads we tried. The frisee salad was non-traditional, with a curry dressing and toasted macadamias rather than the traditional egg. It was really exotic. The other salad wasn't the simple green salad described on the menu, but a delicious concoction involving beets, radish and greens with a vinaigrette and superb crunchy sunflower seed granola.
We shared a DC Burger as another starter. What a great piece of ground breef! It was tender, flavorful, juicy, had a nice char, and was cooked a perfect medium. The mayonnaise-based sauce was excellent but not mentioned in the menu description.
For mains we tried the butter roasted chicken, red snapper, and yellowfin tuna burger. These were all good, but perhaps not quite as good as what came before.
The snapper was certainly the best, with a great crust, and accompanied by very flavorful quinoa.
The chicken was pleasant, but not remarkable, however chef substituted ratatouille for the fingerling potatoes at our request, and it was absolutely great. This should go on the menu by itself!
The tuna burger was not at all what I expected, as it seemed more like a lamb burger due to the way it was ground and the heavy inclusion of cumin in the patty. That said, I really enjoyed it.
A tempura mushroom side dish was nicely cooked, but probably would be better with a different vegetable.
The creme brulee was as good as any I've ever had, served at the perfect temperature of slightly warm, with a soft texture, strong vanilla flavor, and a crackly crust.
Milk sherbet with peaches was another winner.
The accompanying espresso was also perfectly done, served in an odd little shot glass, with a nice crema, and just enough bitterness to offset the sweet desserts. This espresso makes me want to go back for breakfast.
In addition to all this great food, there is an even greater wine list, with the best wine pricing of any restaurant in town. Selected by Kristopher Soto, the general manager here, who used to be the sommelier for the sadly missed Vineyard at The Ritz Carlton, the wine price to performance ratio is unmatched anywhere in town. You can get any number of great bottles for well under $100. These wines are literally twice the price at other restaurants in Orlando.
With Clayton Miller as the head chef, Gene Zimmerman, who is behind the Courtesy speakeasy bar, heading the bar, and James Petrakis, the owner of Ravenous Pig and Cask & Larder, as a consulting partner, I suppose I shouldn't be surprised that this is a great restaurant. But for it to be this good the day before opening is pretty amazing. May it live long and prosper.
DoveCote Brasserie
390 North Orange Ave
Ste 110
Orlando, FL 32801
(407) 930-1700
https://www.yelp.com/biz/dovecote-orlando-3