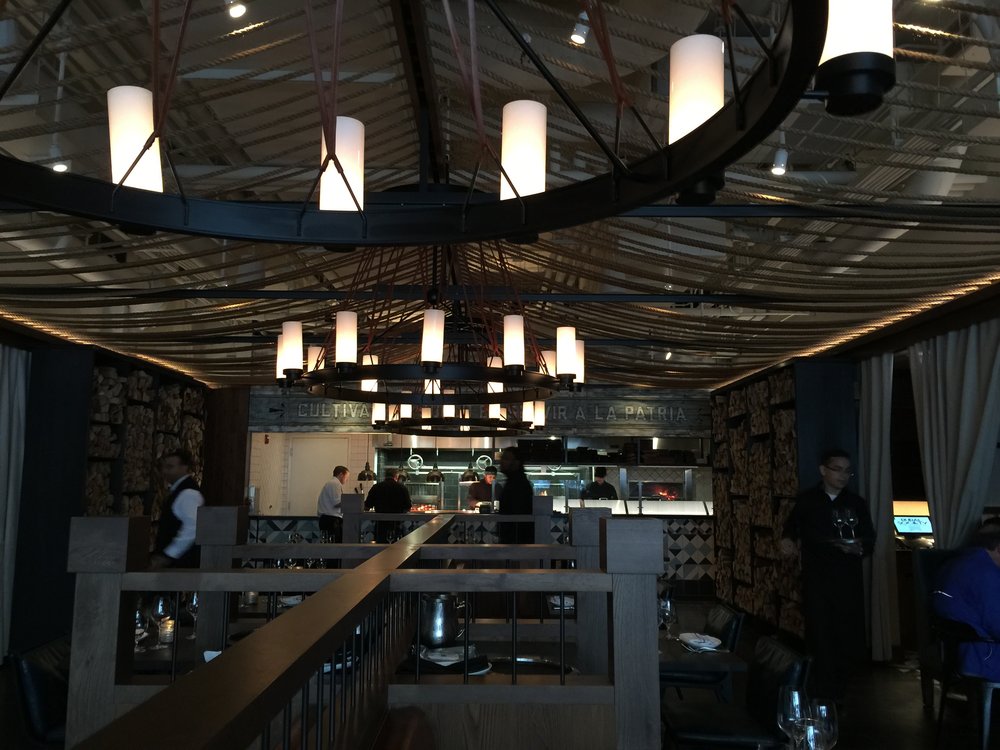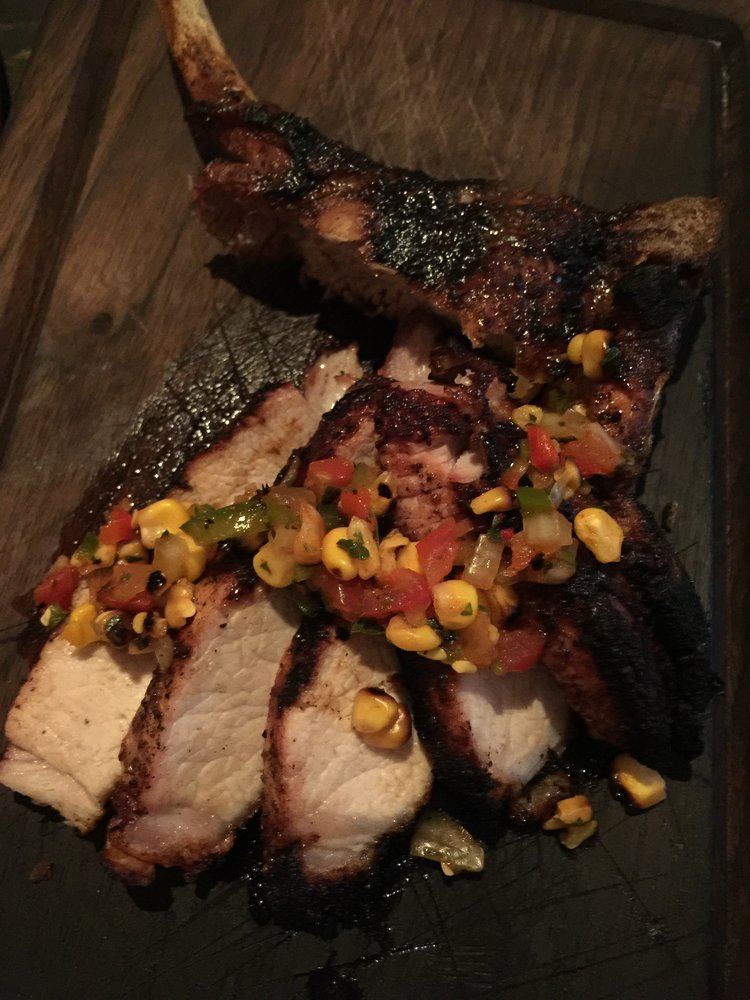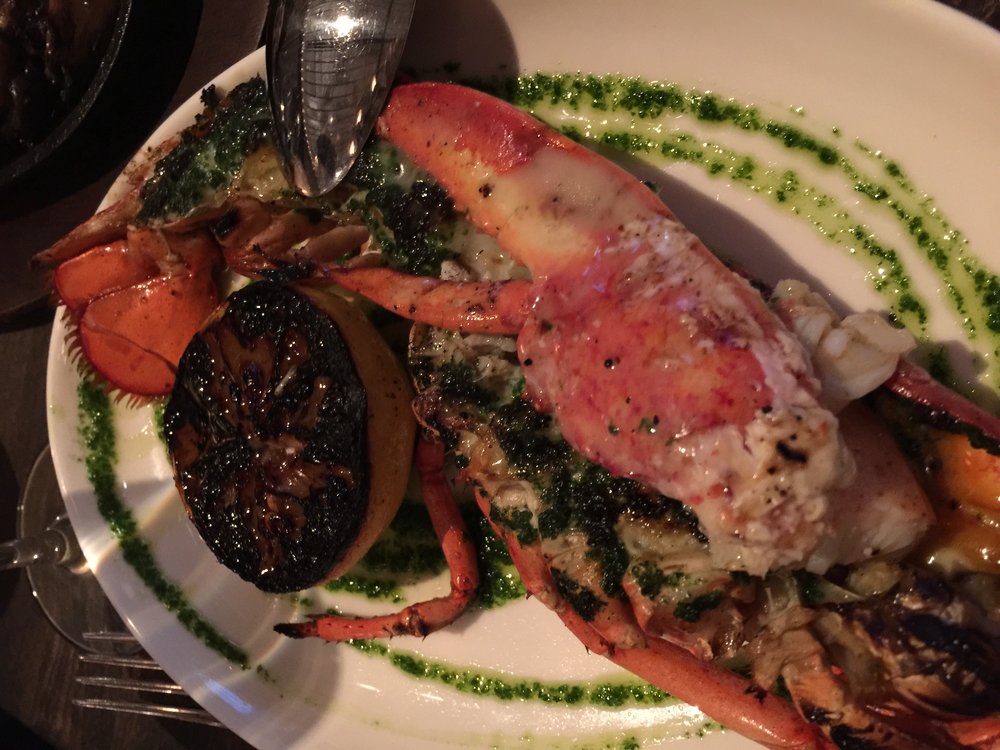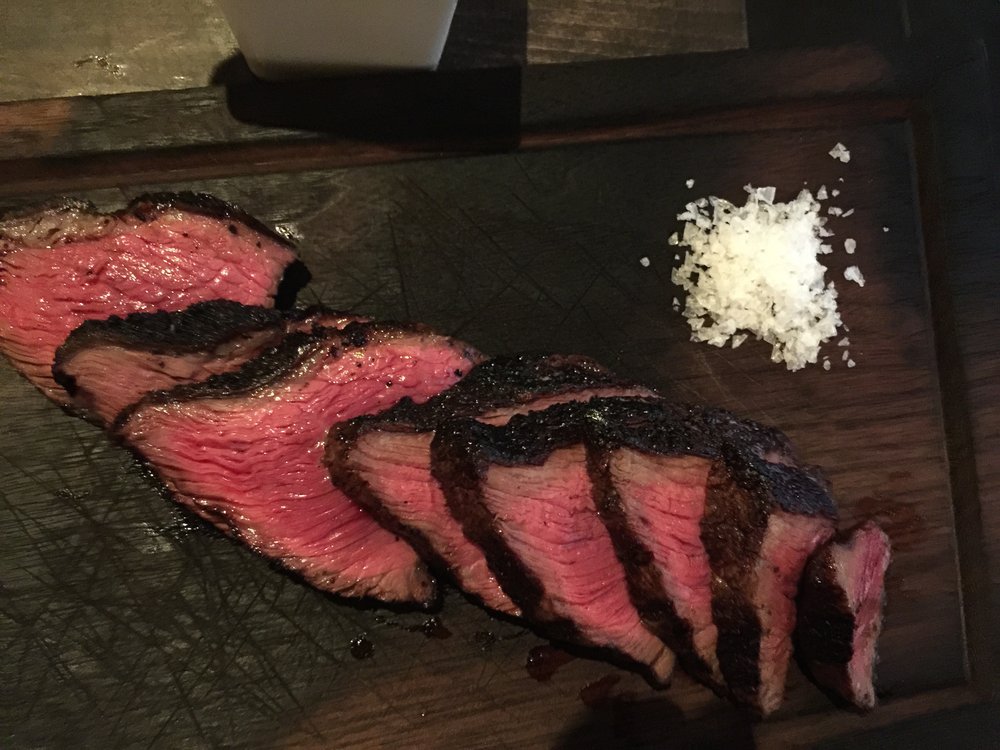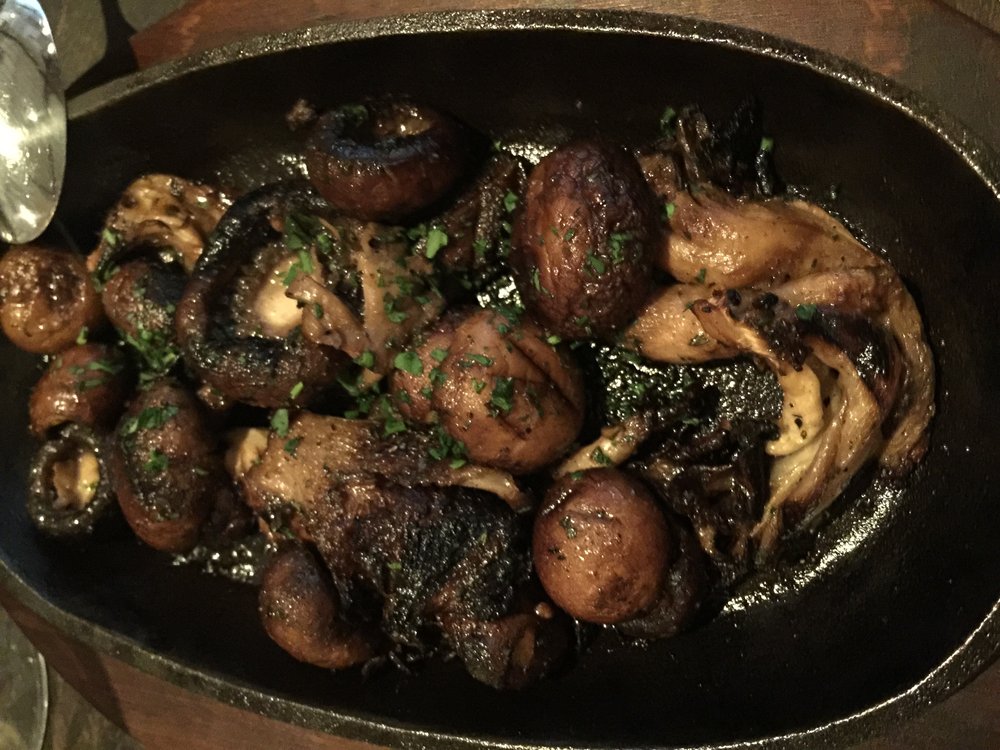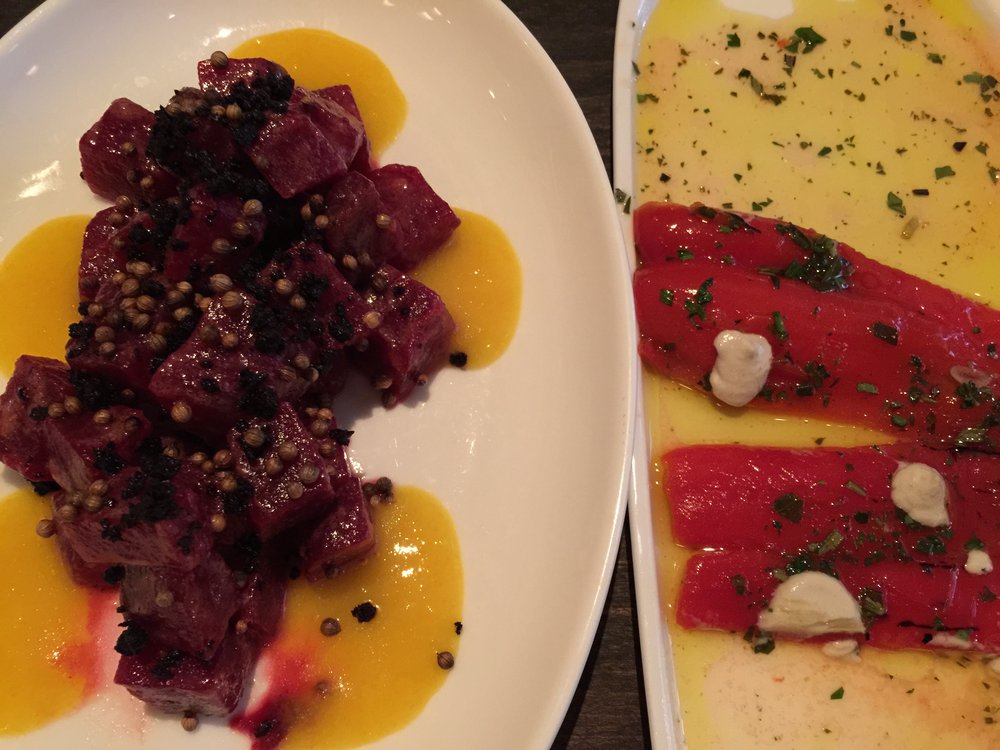 ***** (5 stars)
This surprisingly large restaurant, as the name implies, strikes a balance between rusticity and sophistication. As soon as you enter the smell of the wood grill sets the tone for the highlights to come.
The decor features many private booths in curtained alcoves, although they are for parties of four or more. Couples are seated in the middle, where the acoustics seem like they should be good, but were defeated by a very large party seated nearby. Already several drinks in when they arrived, they should have been placed in the empty adjacent room. Ah well.
We decided to try the tasting menu and accompanying wine paring. This turned out to be a great way to sample much of the menu, and it's a good buy compared to the individual food pricing. It's available in two versions. We went for the upgraded version, which features more premium ingredients and better wines.
The tasting menu is billed as four courses, but it's actually a dozen, since many plates are served for each course, and staggered preparation means that not everything arrives at one time. The accompanying five wines were excellent quality, almost all from Mendoza, and were full pours. We particularly loved the Alma sparking Malbec, a blanc de noir that was mouth-filling with a crisp finish.
We began with Focaccia bread with Malbec butter, which went great with the sparkler.
Empanadas filled with Braised Wagyu Beef Belly were indeed savory, and improved by some of the salsa condiment. It didn't particularly go with the accompanying pinot grigio.
Braised Octopus with Tomato Escabeche and Malbec Chips was an interesting combination, more about the accompaniments than the octopus.
Roasted Red Peppers were a surprising standout. Thin sliced and served in oil with Whipped Eggplant and Anchovies, they were quite complex.
Roasted Beets were served with an amazing Orange Coriander Vinaigrette that elevated the beets to something quite interesting. I was wishing I had some of that sparkler left for this course, although it somewhat matched the pinot not that was served.
The Seafood Pasta with Cockles wasn't my favorite, although the past was nicely cooked, and the bits of Rock Shrimp were tasty.
Grilled Wild Mushrooms were laden with butter, and absolutely delicious.
The final course consisted of three items from the grill. Maine Lobster tail was split in half and served with a piece of claw meat. It was a straightforward preparation that let the flavor of the tender lobster come through.
Although I'm not usually a pork fan, the Pork Chop was actually the highlight of the meal. It was a thick chop, sliced into succulent pieces, each with a charred crust. This is the only item I could not find on the regular menu, and I wonder if it was a special or a variant of the stuffed pork tenderloin.
I'm pretty sure the tasting menu we had included the Prime Dry Aged NY Strip. Whatever the beef was, it was exquisite, and perfectly matched by the malbec/cabernet/syrah blend that accompanied it.
Crispy Roasted Potatoes were pre-sliced into thin wafers held together only at the bottom, which allowed them to crisp around the edges. The accompanying Hollandaise was suffused with Truffle.
We finished with a rolled up crepe-like pastry accompanied by Tres Leches ice cream. I felt it was the weakest course, although we were stuffed at this point, and the final wine, a delicious late harvest Malbec, made up for it. It was like drinking chocolate mousse.
Service was friendly and efficient.
While Rural Society isn't cheap, It is a good value for the money, but if you plan to order the tasting menu I suggest you arrive very hungry!
Rural Society
455 N Park Dr
Chicago, IL 60611
(312) 840-6605
http://www.yelp.com/biz/rural-society-chicago-2