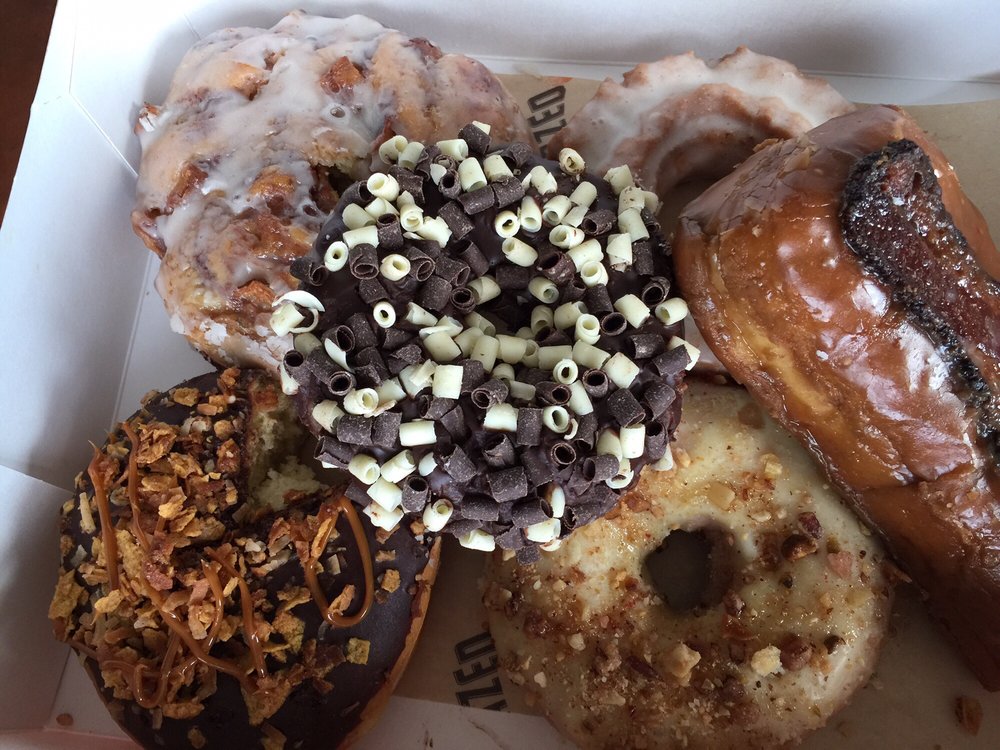 **** (4 stars)
This is among the top doughnut places in town, and has the advantage of more locations than some of the others. (Note that the entrance to the River North location is through the restaurant around the corner and past the hostess stand.) There is a limited selection of types, and they run out, so it's best to arrive early and beat the lines.
Their old fashioned is a very good doughnut, although I would prefer it without the fronting, and with more of a crust, like they do it at Do-Rite's.
White chocolate seems a bit boring, and Chocolate 4 is simply all about chocolate, not really my thing.
The apple fritter is a nice take on this old favorite; this version is all about cinnamon and a light cake interior, without the cloying apple glop that is so often used. I would have liked a crisper top crust, though.
The fried ice cream doughnut was interesting, with its toasted coconut topping, although I'm not sure where it gets its name.
But clearly the standout doughnut here is the Maple Bacon Long John. The creamy center gives it a smooth consistency, the maple flavor is rich, and the salty bite of the smokey peppered bacon really raises the complexity level. This is the doughnut you've been looking for.
While they have bagels and other non-sweet items, they don't have any doughnuts that aren't extremely sweet, so if your taste runs to a plain old fashioned, this isn't the place. Otherwise it's definitely a great choice for some morning sugar overload.
Glazed & Infused
30 E Hubbard St
Chicago, IL 60611
(312) 226-5556
http://www.yelp.com/biz/glazed-and-infused-chicago-6