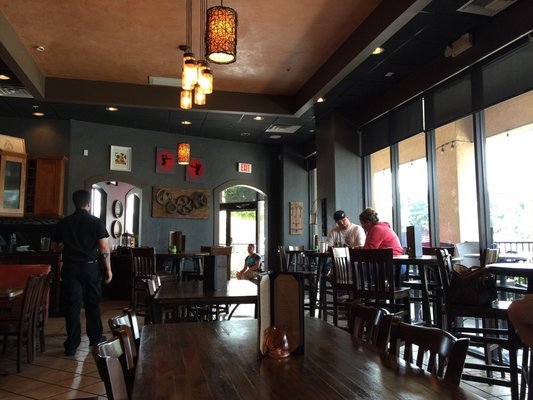 **** (4 stars)
Don't mistake RusTeak for a bar and grill, a steak house or a sandwich shop. In truth it's all of these but also much more. There is a gourmet twist to everything they do, from appetizers to sandwiches to burgers to entrees. You'll find ingredients combined in creative (and successful) ways, served in a casual but cozy atmosphere.
I had a pastrami sandwich, which featured extremely tender and lean meat, perfectly toasted bread, and house made close slaw and half sour pickle. My companion's steak sandwich was also good, although it required deconstruction to be eaten.
There is a shockingly good wine list, extensive and well-conceived. It's actually one of the best wine lists in town. I can't imagine where they keep it all.
There's also a great selection of interesting craft beers.
Service is friendly and efficient.
RusTeak Restaurant & Wine Bar
1568 Maguire Rd
Ocoee, FL 34761
(407) 614-3765
http://www.yelp.com/biz/rusteak-restaurant-and-wine-bar-ocoee