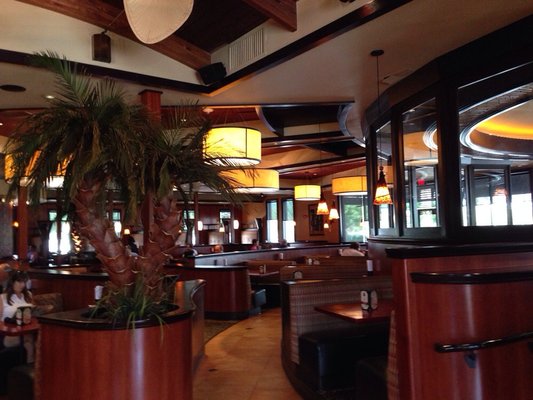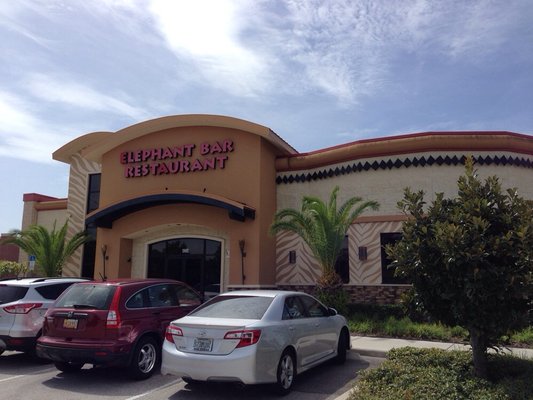 **** (4 stars)
The elephant bar was a pleasant surprise. I was expecting just another middle of the road homogenous American food chain ala TGI Fridays, but it's far better. For starters, the interior design is beautiful, filled with curved spaces, attractive wood and bamboo surfaces, lots of booths that help with the ambient noise level, and an intimate circular bar near the door.
The menu would be great in a foreign country, because each item is pictured, and the food that shows up actually looks like the picture.
I had the Thai BBQ Salmon Salad, and I have to say it was one of the best salads I've ever had. The wood-fired salmon was charred around the edges and glazed with a sweet yet tangy Thai BBQ sauce. The mixed greens were lightly tossed with a citrusy vinaigrette. And the plate was surrounded by little piles of mango, marinated cucumbers, green beans, cherry tomatoes, orange slices, and grilled bell peppers. Each had a unique flavor that complemented the salad. Really a delicious offering.
Service was friendly and efficient, from the greeter at the front door to the desk, to our server. Prices might be a dollar or two higher than the norm, but I felt it was worth it. Aside from a dirty fork, the entire experience was a great one, and I'll be lobbying the lunch group to return here soon.
Elephant Bar Restaurant
4054 Conroy Road
Orlando, FL 32839
(407) 370-6412
http://www.yelp.com/biz/elephant-bar-restaurant-orlando