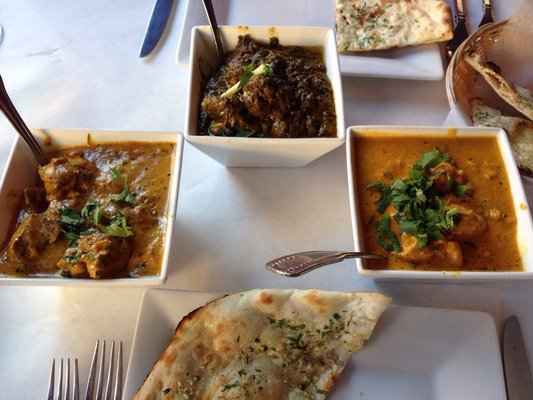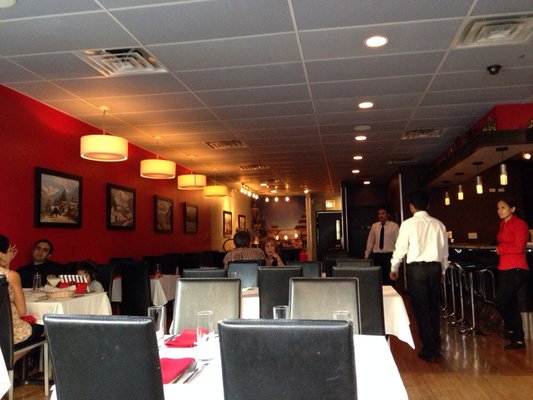 **** (4 stars)
This wonderfully aromatic restaurant is well named.
The menu offers a wide range of classic Indian dishes, some with a twist. For example, the naan bread is very thin, almost like flatbread, but with a bubbly crisp crust around the edge. We had the garlic version, and it was some of the best I've had. Because of its thinness, it wasn't too filling, yet made a great scoop for picking up sauce.
We tried three entrees. The shrimp saag was rich and had a good spinach taste amidst the spices, but the strong flavors made the inclusion of shrimp pointless. Next time I would get it without any protein.
Chicken Madras was extremely creamy, and the chicken was moist and succulent. I hadn't had this dish before, and really enjoyed it.
But by far the best was the lamb korma, not so much because of the lamb (which was fine, but not tender and succulent like the chicken) but because of the wonderfully complex flavors in the korma sauce, one of the best versions I've tasted.
The meal starts with a basket of papadums and two sauces, mint, and tamarind. The mint sauce was a bit thinner than some, and I like more cilantro in mine, but the tamarind sauce was outstanding, almost like fresh cherries in its fruitiness. Very different from the dark, cloying versions served most places.
Service was extremely friendly and helpful. There are a large number of nice wines by the glass.
The place is cozy and upscale, and the cooking smells waft down the street. For a fine meal, just follow your nose to Cumin.
Cumin
1414 N Milwaukee Ave
Chicago, IL 60622
(773) 342-1414
http://www.yelp.com/biz/cumin-chicago