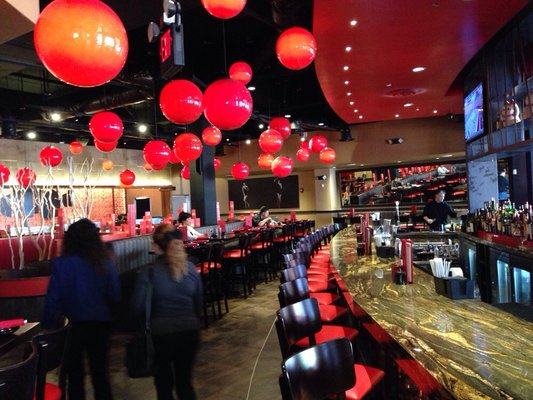 **** (4 stars)
RA Sushi is a good choice for sushi in the International Drive area. Located downstairs off the valet parking turnout of Pointe Orlando, it is a large, stylish restaurant with a variety of seating options, a bar across the front, a sushi bar in the rear, and some patio seating as well.
The sashimi lunch plate is a particularly good choice. It's available every day at lunch time, even on weekends, and offers 12 generous pieces of sashimi (tuna, salmon and white fish) plus soup and salad for a reasonable price.
I also really like the summer menu's special hand rolls, which were light and refreshing, almost like summer rolls in a Vietnamese restaurant.
But it's worth noting that RA Sushi isn't exactly an authentic sushi bar. I tried ordering a salmon skin roll and was told that since all ingredients are already prepped, they can't make items not on the menu. What that says is that the sushi chefs are more assemblers than true sushi chefs who can make anything they like. That's not too surprising, since the chain is owned by Benihana.
Still, the fish was good quality and the price was reasonable, and I'll certainly return.
RA Sushi
9101 International Dr
Orlando, FL 32819
(407) 454-5600
http://www.yelp.com/biz/ra-sushi-orlando