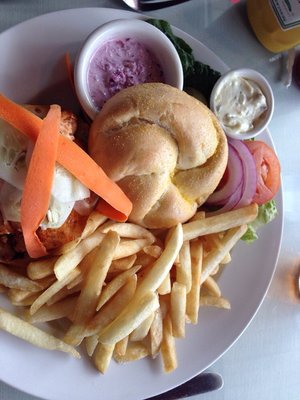 **** (4 stars)
I really enjoyed my lunch here, and they were able to accommodate my limited time frame.
The meal includes a simple green salad or soup. I had the salad with balsamic dressing.
I chose the broiled fish sandwich, which was a nice serving of salmon on a good bun. The sandwich was accompanied by lettuce, tomato, cole slaw, pickles, cucumbers, tartar sauce and thin slices of carrot, so I had no trouble finding an interesting way of dressing it! There was also a large mound of hot, crisp french fries.
This was a good sized lunch, all fresh and quickly prepared, and I felt the $11 price tag was quite fair.
Noyes Street Cafe
828 Noyes St
Evanston, IL 60201
(847) 475-8683
http://www.yelp.com/biz/noyes-street-cafe-evanston