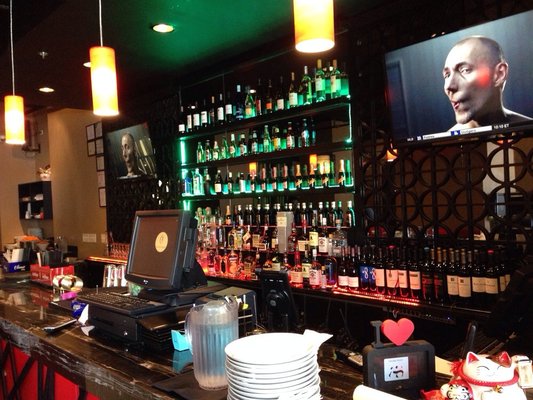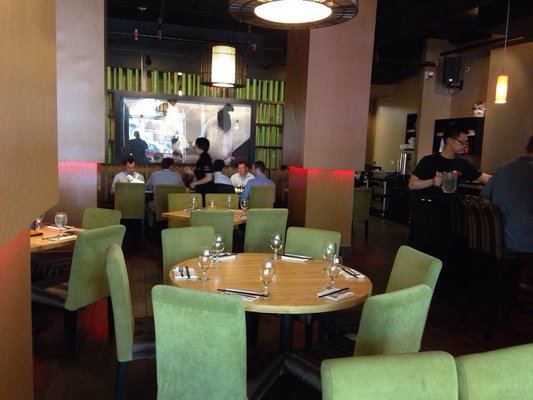 **** (4 stars)
This latest outpost in a large chain of Chinese restaurants is extremely authentic. And by that I mean that if you're used to Americanized Chinese takeout places you will find it interesting and perhaps challenging to eat here!
The space is very nicely decorated, and features a dramatically lit bar along one wall. Furnishings are comfortable and elegant, but despite all the fabrics the space can get fairly loud.
Because I was by myself and there is no lunch menu, I chose to try an assortment of appetizers. The wonton soup was some of the best I've had. Chicken egg rolls were tasty, but could have been crisper. The Chinese mustard was authentically hot.
Sliced Tender Pork with Garlic Sauce is a cold appetizer. It was very tasty, but it's somewhat like eating lightly cooked bacon, so the uninitiated should be wary. Similarly the Five Powder Beef is served cold, and contains a fair amount of fat. The hoisin sauce topping it was slightly spicy and very flavorful. Both of these meat dishes were very generous portions, suitable for 2 to 4 persons as an appetizer.
Be aware that most of the food is spicy, and some is very spicy. The heat levels are indicated on the menu.
There is a very thoughtful selection of nice wines by the glass, and the glassware is superb.
Service was a tag team approach, and was friendly and efficient.
Prices are too high for college students, but certainly reasonable for the work crowd. Because of the large portion sizes it's best to go with four or more people so you can try several things.
Lao Sze Chuan
1633 Orrington Ave
Evanston, IL 60201
(847) 868-8989
http://www.yelp.com/biz/lao-sze-chuan-evanston