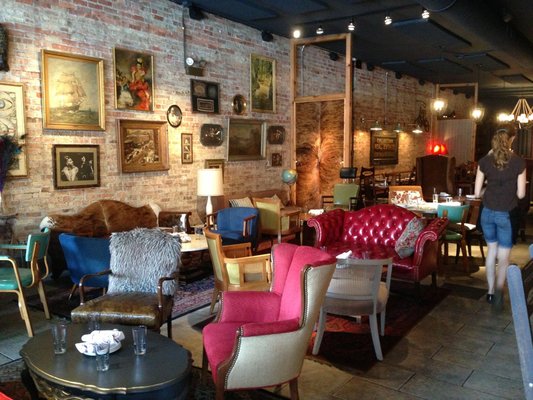 **** (4 stars)
This trendy new Evanston hot spot bursts out onto the sidewalk with patrons every evening, but it's possible to find a table at lunch and in the afternoons. Before 4:30 the emphasis is on sandwiches, afterwards on small shared plates. Our favorite was the salmon salad, a baguette slice topped with salmon, mayo, dill, red onion and celery.
There's an interesting drink list with a short but thoughtful selection of beers, and quite a few interesting bitter aperitifs. I love Amaro, and there were four on offer, plus a sparkling wine mixed with Campari and grapefruit, inexplicably called an lsd.
The funky interior has no matching tables or chairs, and adds a fun off beat sense to the fairly intimate (and often noisy) space.
Found Kitchen & Social House
1631 Chicago Ave
Evanston, IL 60201
(847) 868-8945
http://www.yelp.com/biz/found-kitchen-and-social-house-evanston