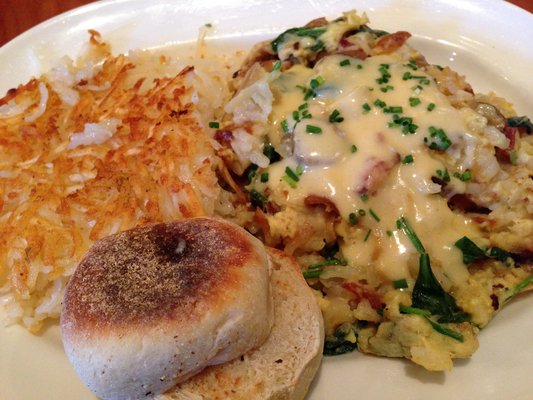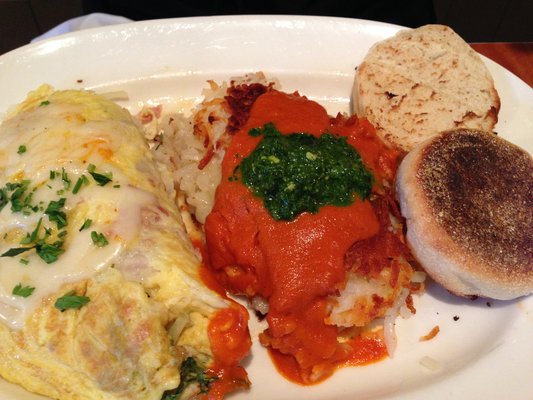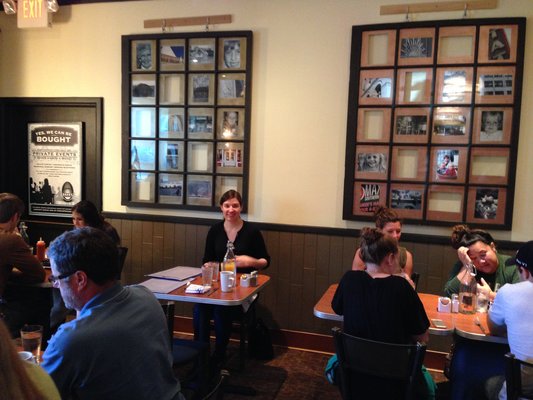 ***** (5 stars)
If anyone had told me I would wait an hour in line to get breakfast I would have called them crazy, but boy was it worth it. This isn't a tiny restaurant by any means, but it could be several times as large and would still be packed.
There are three dining areas: the front patio could be a bit hot in the sun; the front room which includes a counter, but is quite noisy; and the back room, which is quieter and more nicely decorated. We were pleased when we were seated in the back room.
Three items stood out:
The monkey bread is crusty on the outside, soft on the inside, and has a wonderfully complex cinnamon flavor. It didn't need the whiskey dipping sauce.
The hashbrowns were wonderfully buttery and bursting with potato flavor, and crisp on top.
The Hoppel Poppel was an amazing mix of scrambled eggs, sausage, cherry-wood bacon, caramelized onions, shredded potatoes, spinach, all topped with hollandaise sauce. I had to stop myself from eating the whole thing, which was really enough for about four people!
Service was friendly and helpful.
I'm so glad I live far, far away from this place, or I'd be there every day!
Blue's Egg
317 N 76th
Milwaukee, WI 53213
(414) 299-3180
http://www.yelp.com/biz/blues-egg-milwaukee