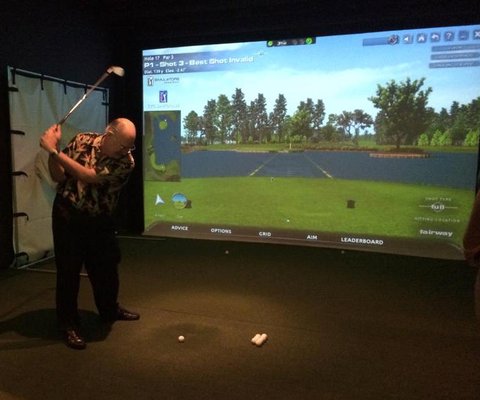 *** (3 stars)
Dewey's is an interesting combination of golf practice center and restaurant/bar. I'm not really much of a golfer, but I did accept their free swing for a chance to win $1000. I landed in the water.
But I was there for the food, and it was pretty good. They offer the usual sports bar combination of burgers, hot dogs, sandwiches, pizza and a few pasta dishes and salads. We tried the Lime shrimp, which has a nice lime flavor, and the veggie burger, an excellent, crusty black bean burger that came with some nicely crisped battered fries.
Other guests has the beer brat (a hot dog served with sautéed peppers) and the turkey club, which was huge. The all enjoyed their choices.
The atmosphere is pretty neat, a fairly dark space with strategic spotlights, surrounded by computer-generated golf course images from the golf games. The price for the golf games ranges up to $72 per hour, which seems absurdly high to me, but the food prices are reasonable.
Dewey's Indoor Golf & Sports Grill
7720 Turkey Lake Rd
Orlando, FL 32819
(407) 279-3311
http://www.yelp.com/biz/deweys-indoor-golf-and-sports-grill-orlando