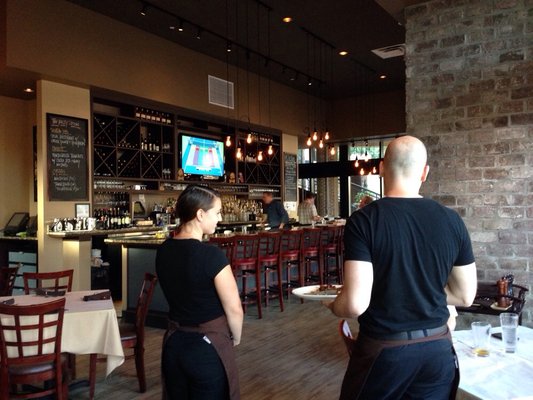 **** (4 stars)
This gastropub on Church street offers some great food at impressively affordable prices. A well thought out menu lets you graze on starters or assemble a conventional dinner.
We tried the grilled squid and octopus and the haystack fries as starters. The seafood was tender and succulent with just the right amount of char, and served over nicely dressed arugula with tasty pickled rinds. The fries were hay thick and tossed with herbs and cheese. Nicely crispy but not particularly hot (probably because they were too thin to stay warm), they were accompanied by house made ketchup, barbecue sauce and aioli.
To finish up our light meal we shared the "55" burger, a generous serving of meat, charred on the outside and grilled to a perfectly requested medium rare. caramelized onions and melted gouda gave it plenty of flavor, and the bun was crusty enough to hold it together, even when split.
Half the menu is wine and beer selections. Our 2005 Guigal Chateauneuf du Pape lived up to the stellar reputation of the vintage.
The Rusty Spoon
55 W Church St
Ste 101
Orlando, FL 32801
(407) 401-8811
http://www.yelp.com/biz/the-rusty-spoon-orlando