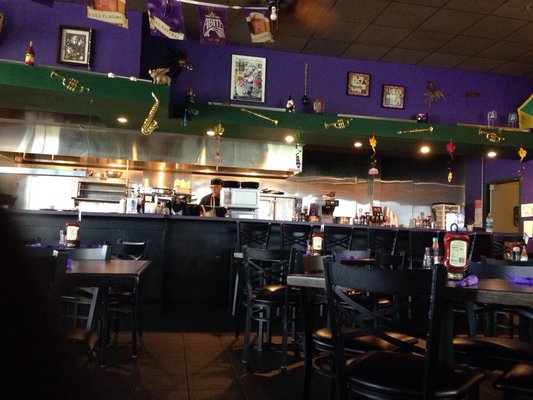 **** (4 stars)
The Big Easy offers fairly authentic New Orleans style food in a convivial, neighborhood sports bar-like atmosphere. The emphasis is on fried food, including shrimp, crawfish and oysters, which can be ordered as an appetizer or in a po'boy sandwich.
We enjoyed the mixed seafood appetizer and the fried pickles, but my favorite was the Mufaletta sandwich, as good as any I've had in New Orleans. The ham was tender and generous, the olive spread appropriately tangy, and the bread had the perfect crusty consistency. The sandwich was accompanied by some great battered fries, served piping hot.
There are also entrees such as Étouffée and Jambalaya and blackened redfish. I found the flavors of the Étouffée and Jambalaya a bit too similar.
Service was a real standout. A single waitress handled the whole room, and was more efficient than three people might have been. She kept our drinks refilled, checked back often, and made the whole experience a very pleasant one.
The Big Easy
15502 Stoneybrook W Pkwy
Ste 120
Winter Garden, FL 34787
(407) 654-3279
http://www.yelp.com/biz/the-big-easy-winter-garden