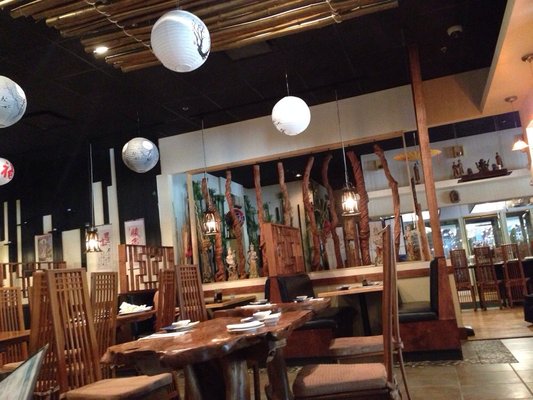 **** (4 stars)
Based upon the tourist location and other reviews I wasn't expecting much, but I really liked this place.
The room is great, almost a tiki bar decor, with nicely partitioned booths and stylish tables.
The extensive menu offers a huge selection of sushi rolls, plus a page of noodle dishes and two pages of teppan steak offerings. We sat at a table and had sushi for lunch.
A lot of the rolls feature cooked eel or tempura ingredients, making them slightly sweet, so those new to sushi will find it very accessible. There are also very reasonably priced combinations and sashimi samplers.
Of everything we tried my favorite  was the orange blossom roll, which involved no orange, but did look orange. A creamy salmon concoction with crispy fried bits of roe, it nicely incorporated salty and sweet flavors with a crispy yet chewy texture.
Service was extremely attentive and friendly, and pricing, especially for a tourist area restaurant, was extremely reasonable.
Oishi Japanese Restaurant
11025 International Dr
Orlando, FL 32821
(407) 465-0088
http://www.yelp.com/biz/oishi-japanese-restaurant-orlando