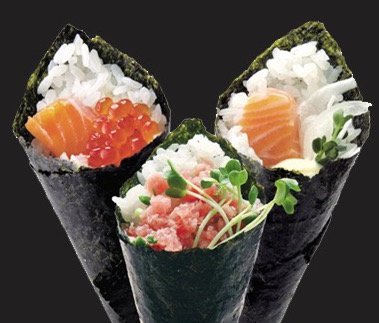 **** (4 stars)
This attractive sushi restaurant is a nice addition to the neighborhood. It may be the first sushi restaurant I've been to that seems to not be run by Asians, so I approached with some skepticism, but we had a nice lunch here.
I started with a small salad with very crisp cold greens and a nice dressing, somewhat lighter but more complex than the traditional ginger dressing.
Their twist on sushi is that they also offer tacos. I wondered what a sushi taco would be like, but it turns out it's just a regular crispy corn tortilla shell filled with whatever sushi item you select. I tried the tuna taco, and the tuna quality was excellent. The crunchy taco pretty much instantly self destructed, but the combination was good.
The real highlights here are the "Temaki" hand rolls, though. My salmon skin hand roll was the best I've had anywhere, and I've had a lot of them: plenty of crispy salmon skin with some flavorful meat still attached, well mixed with the rice so I didn't run out of salmon skin as I ate my way to the bottom of the well-stuffed roll.
Lunch here includes your choice of any two items from an extensive list of tacos, hand rolls and conventional maki rolls, plus soup or salad, all for $8.95. An excellent deal. I plan to return and explore some of the other menu options in the future.
Hand Roll Sushi
2595 S Hiawassee Rd
Orlando, FL 32835
(321) 754-1754
http://www.yelp.com/biz/hand-roll-sushi-orlando