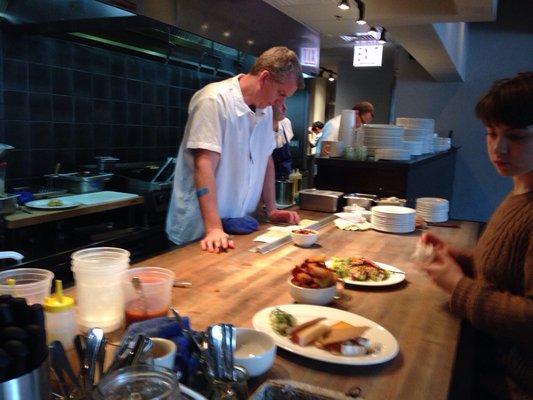 ***** (5 stars)
Evanston has a new high end restaurant to be proud of. The chef from Publican, and one of the owners of Brothers K coffeehouse have teamed up to take over this space, formerly a (good) noodle shop and turn it into a very trendy and noteworthy restaurant.
As others have noted, there is one major downside to the place. Because of its austere, hard-surfaced decor, it is VERY LOUD. In fact, if I had been at a regular table entertaining guests I would not be able to give it a five-star review. But since I was alone, and seated at the chef's bar facing into the kitchen, the sound level was tolerable.
Of course, it's wonderful that the place is packed all night after being open only weeks. And lots of people like vibrant restaurants. But when the quietest place in the establishment is the kitchen, there may be a wee acoustic problem!
So therein lies my tip for pleasant dining: ask to sit at the chef's bar. Not only will you not be deafened, you'll see the fascinating parade of dishes as they leave the kitchen.
Anyway, the food is wonderful. Since the menu changes often, my selections won't necessarily be available to you, but I loved everything I had: grilled Brun-uusto cheese with sweet and sour cherry sauce, pickled cauliflower, quinoa salad, crispy potatoes (quite possibly the best potatoes I've ever had), a whole sardine with fennel and orange, and chicory ice cream.
There is a somewhat eclectic selection of wines, with about a third of them available by the glass, but I opted for the cocktails, because there were several interesting offerings. I prefer drinks with bitter or sour components, and these didn't disappoint. I tried: El Mescalero del Norte (mescal, grapefruit, Compari), Evanston Sazerac (rye , bitter, absinthe), and The New Georgian (peach, bourbon, mint). They were all excellent, and I've listed them in increasing order of sweetness. The mescalero was probably the best, combining earthy and bitter flavors.
Given the quality of the food, I felt pricing was fair. Some of the starters and veggies are under $10, and most mains are about $20. Plan on a starter, main and vegetable, and you're looking at $40 per person. If everyone at the table does that, and you want to sample everything, you'll all get reasonable sized tasting portions and won't leave hungry or broke.
Service was very friendly and professional. I'd read some uneven reviews on this, but I don't think it's completely fair to criticize a restaurant that's not running like a well-oiled machine during its first few days. The service I received was faultless.
As the meal ended and I emerged onto Davis Street, a fire engine was passing with its siren on, and I noted how quiet the city was now that I was outdoors!
Boltwood
804 Davis St
Evanston, IL 60201
(847) 859-2880
http://www.yelp.com/biz/boltwood-evanston