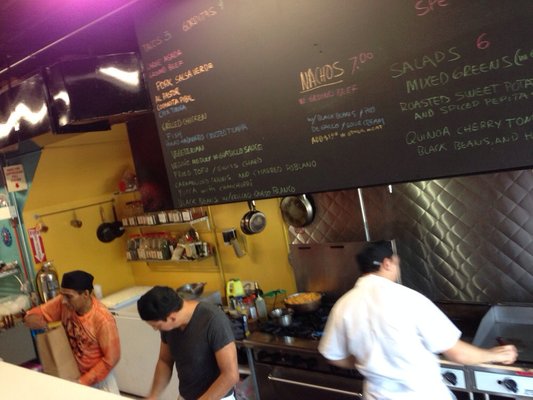 ***** (5 stars)
Wow, authentic hole-in-the-wall Mexican food in Evanston! The way I measure the authenticity of a Mexican place is by the quality of the al Pastor Pork, and this was terrific.
Despite the seeming complexity of the online menu, it's really quite straightforward: you can get a taco, gordita, burrito or empanada, and have it filled with pastor, carne asada, fish, caramelized onion/charred poblanos, or a few other variations.
I tried several possibilities. The fish taco was small, garnished with diced pineapple, and the least expensive item. The gordita al pastor was generously stuffed with pastor, plus, oddly, some black beans. The burrito with caramelized onions and charred poblanos was huge, and although twice the cost of the taco about five times as much food. All three items were delicious.
Everything is prepared to order, so it is fresh and HOT.
Don't even think of eating here. Seriously, there is room inside the door for about six people to stand in line and order. No tables inside or out. Ordering online for delivery is probably the best approach.
Tomate Fresh Kitchen
914 1/2 Noyes St
Evanston, IL 60201
(847) 905-0194
http://www.yelp.com/biz/tomate-fresh-kitchen-evanston