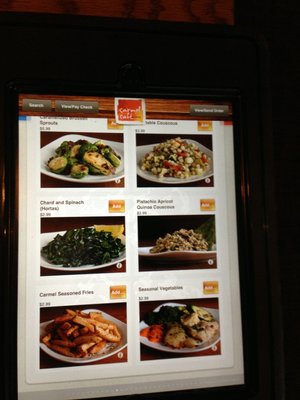 ***** (5 stars)
A very interesting approach to dining.  Originally I think the plan was an all iPad menu and ordering, and that's still available, but now there are also paper menus, and very attentive service. Everyone was extremely friendly, and the ambience is great.
We tried an array of appetizers and liked them all, including the chickpea fries (great curry aioli), edamame hummus, short rib and mushroom flatbread (didn't really need the short ribs) and grilled veggies.
Wines are available in as small as 3oz pours, which makes it fun to try different things. (Check out the Klinker Brick Farah Syrah, which won best of show at the state fair).
I love this new addition to the Winter Park dining scene.
Carmel Cafe & Wine Bar
140 N Orlando Ave
Winter Park, FL 32789
(407) 513-4912
http://www.yelp.com/biz/carmel-cafe-and-wine-bar-winter-park