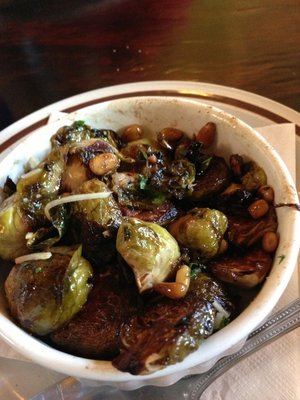 ***** (5 stars)
The location is a bit off the beaten path, but they've done a beautiful job decorating the building, so it has an upscale casual feeling. There's also a great outside dining space in front. We tried quite a few dishes and liked nearly all of them.
A well thought out tapas menu with many diverse selections is the big draw here. The gazpacho was a little weird, as it is pureed, and seemed really rich. Brussels sprout oven roasted and then sauteed in brown sugar were my favorite. The mushroom stuffed puff pastry was also excellent. The ceviche had huge chunks of nice tender fish, but could have used a bit more seasoning added to the citrus juice. There are so many choices it would take many visits to try them all.
I tried a couple of types of sangria. My favorite was the conventional red variety, reasonably priced at $6.
Service was friendly and attentive. A great addition to the area's dining scene.
Santiago's Bodega
802 Virginia Dr
Orlando, FL 32803
(407) 286-2903
http://www.yelp.com/biz/santiagos-bodega-orlando-2