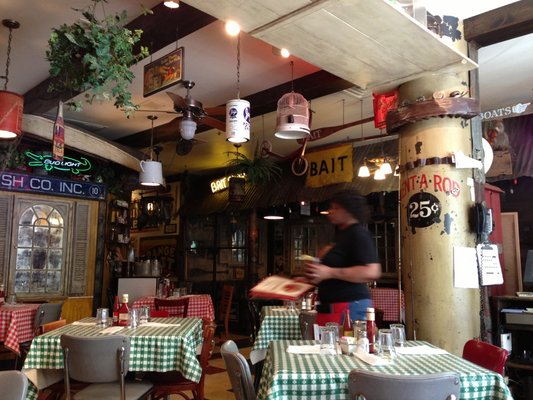 **** (4 stars)
Considering the owners are not originally from the South, this is a remarkably authentic dining experience.
I had the lunch special of a half blackened catfish poboy and a cup of gumbo. The catfish was the perfect spiciness, still moist, and not muddy, and the bread was fresh. Gumbo was a tasty, rich mixture, served with the rice separate on one side of the cup, which was an interesting approach. My meal came with a pair of corn meal pancakes rather than muffins, which is a bit unusual, but tasty. At under $7 it was a good buy for lunch.
The unsweetened peach tea was very tasty; it's hard to find good unsweetened tea in the South. The breakfast items and salads I saw also looked good.
I love the funky atmosphere. The space is decked out like a bait shop, and red checkered plastic tablecloths brighten things up. There are also four tables out on the sidewalk.
Dixie Kitchen & Bait Shop
825 Church St
Evanston, IL 60201
(847) 733-9030
http://www.yelp.com/biz/dixie-kitchen-and-bait-shop-evanston