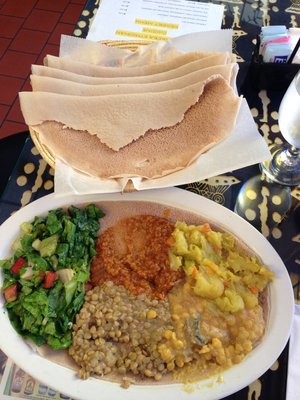 ***** (5 stars)
I really like Ethiopian food. It's healthful and tasty. Of the various places I've tried, this is my favorite. I mostly go for lunch, which is never busy, but always good. For $9 you can get four of their best vegetarian items, or you can trade out some for meat items.
Ethiopian food is traditionally served without utensils, but with a stack of crepe-like bread that you tear off and use to pick up the food. I find the bread a bit filling, so it's nice that you can ask for a fork.
Service is very friendly, and the Ethiopian tea and coffee are both delicious.
The place is easy to find, because of the bright yellow awning out front, and the sunny, happy motif continues inside, with colorful window hangings and bright walls. If you haven't tried Ethiopian food, you should check it out.
Addis Abeba Ethiopian Cuisine
1322 Chicago Ave
Evanston, IL 60201
(847) 328-5411
http://www.yelp.com/biz/addis-abeba-ethiopian-cuisine-evanston