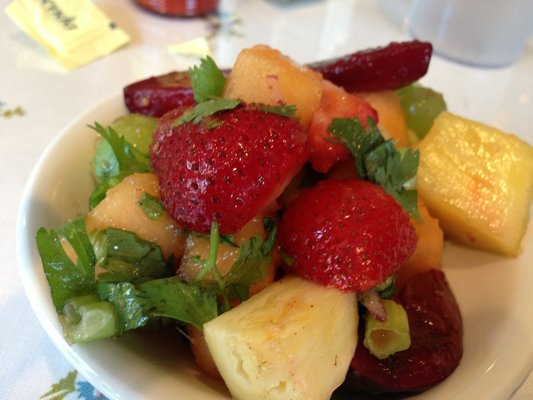 ***** (5 stars)
Wow, this place was a double surprise. From the name I thought it would be Chinese, and from the decor I thought it was a greasy spoon. And in fact there is plenty of diner food on offer here, but there are also some amazing dishes.
I opted for the portobello sandwich, which was fabulous. The bun was perfectly grilled, the mushroom had a delightful texture, and the crispy thin onion rings added just the right amount of crunch. The sauce gave it a nice kick, and lettuce and cucumbers added a refreshing layer of cool. Wow, after writing that I'm ready to eat another one.
My sandwich came with a choice of fries, and I selected the gingered fruit. Double wow! The cantaloupe, strawberries, plums and pineapple had been coated with a ginger sauce, and then perked up with cilantro and green onion bits. Creative and delicious.
I'm definitely headed back here to check out breakfast.
The Lucky Platter
514 Main St
Evanston, IL 60202
(847) 869-4064
http://www.yelp.com/biz/the-lucky-platter-evanston