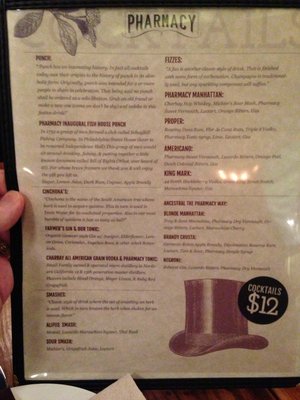 **** (4 stars)
The Pharmacy is a secret. It's a restaurant with no sign, and so far no website or published phone number. In fact, the whole point is that it's hard to find out about, and hard to find… just like the 1920's speakeasy it's patterned after.
It's the latest concept from Tyler Brassil, Loren Falsone and Dominick Tardugno, the people behind The Table, an 18-seat table that serves a different, locally sourced meal each night. In fact, The Pharmacy is right next to The Table, but it's well hidden. Finding it is half the fun, but I'll let you in on the secret if you really want to know: down the passage to the south of The Table is a fake elevator. The tip-off is that it says you're on floor 10! It also has a 1920's style arrow pointer above it that suggests you're in a high rise. Push the button and step back into the 1920's.
Well, sort of. There are theming issues. The room is more industrial than 1920's, and beside the cool backlighting of bottles on the bar, the tables look more like they're from a barbecue joint, and the 1920's lighting fixtures are more appropriate to a department store than a speakeasy. The music is right on, though.
As is the drink menu. House-made bitters and an emphasis on liquors popular in the era create what is perhaps Orlando's most interesting list of libations. There are also a limited selection of wines by the glass, and beers.
If you've been to The Table you know that the food is special, and the same philosophy has been applied here: local sourcing of fresh ingredients. There are flatbreads, a kobe burger and Caesar salad, plus other small plates. We tried the fondue, which had a nice tangy cheese base and a strong dose of wine. The grilled, crusty bread served with it was excellent. We also had the garlic rock shrimp, which were (predictably) a mess to eat, but quite delicious.
It will be interesting to see how The Pharmacy does. For a brand new restaurant, they had a fair amount of business, especially considering the lack of sign, phone and website. On the other hand, it's almost impossible to find out about it, and the name may be the biggest liability. It doesn't scream "speakeasy," and searching for "pharmacy" online is not likely to turn up a restaurant.
On the other hand, imagine how much fun it will be stepping up to an old elevator with your date and watching his or her expression as you push the button and the doors open into the 1920s!
Pharmacy
8060 Via Dellagio Way
Orlando, FL 32819
(407) 985-2972
http://www.yelp.com/biz/pharmacy-orlando