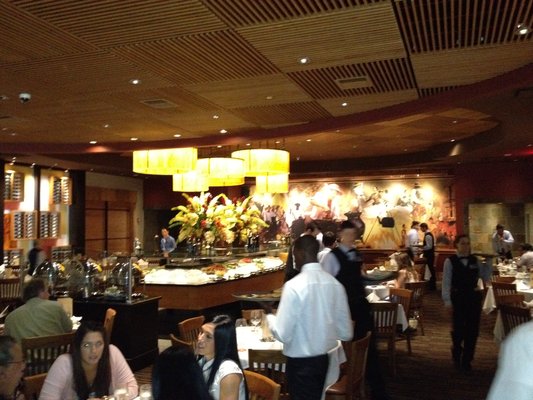 ***** (5 stars)
This is the Churrascaria concept, where roving servers with skewers of meats come by your table delivering 16 different kinds of meat until you beg them to stop (well, actually until you turn over the little red and green piece of cardboard by your plate).
The meats are terrific (especially the house specialty caipirinha seasoned beef, and the baby lamb chops) but I was even more impressed by the delicious offerings at the included salad bar. Each ingredient was incredibly fresh and succulent, and there was a terrific variety, from Ceasar salad to curried cucumber to giant stalks of perfectly cooked asparagus.
Service was hyper attentive. The room is decorated in very appealing woods, a much better ambiance, I thought, than the competing Texas de Brazil Churrascaria up the street, and the food was certainly better.
These places are fairly expensive, with lunch about $26 and dinner topping out at $42. On the other hand, the salad bar only option seems like a pretty good deal at dinner, since it's always $19.
Fogo de Chão Brazilian Steakhouse
8282 International Dr
Orlando, FL 32819
(407) 370-0711
http://www.yelp.com/biz/fogo-de-ch%C3%A3o-brazilian-steakhouse-orlando-3