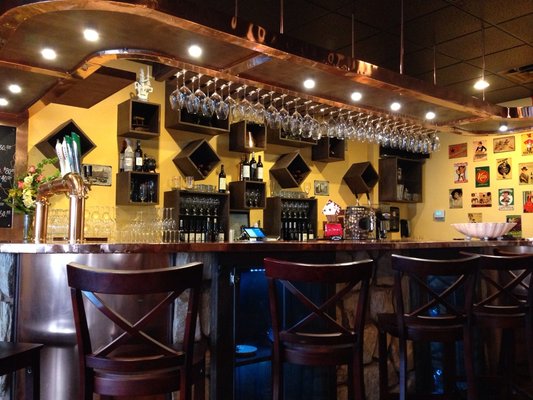 *** (3 stars)
Southwest Orange County really needs a good tapas restaurant. And Lolailo has the potential to be one, but it's not there yet. The restaurant occupies the former space of the much-missed Rice Paper, but has undergone a full remodel, and is quite stylish.
To me, tapas is all about ordering a table full of small sharing plates. In Spain it's not uncommon for two of us to share a dozen little items. But that doesn't work at Lolailo. Much of the menu is devoted to entrees, and the tapas items are extremely expensive. An assorted cheese plate for $30? You've got to be kidding. Assorted meats $20.
The problem is worse at lunch. There are almost no tapas items on the lunch menu. Pricing is more reasonable, with the entrees under $15, and a croquette appetizer was a bargain at $4. But most items weren't particularly flavorful. The grilled lamb chops were the best, but were accompanied by flavorless mashed potatoes. My guests were unenthusiastic about the veal, the fish soup and the chick pea stew.
We were almost alone at lunch, and certainly outnumbered by employees, yet it took an hour and a half, so I'm curious to see if they continue to offer lunch.
I might try Lolailo again, but I think I'll wait a few months to see what changes they make.
Lolailo "The Original"
7637 Turkey Lake Rd
Orlando, FL 32819
(407) 730-8948
http://www.yelp.com/biz/lolailo-the-original-orlando