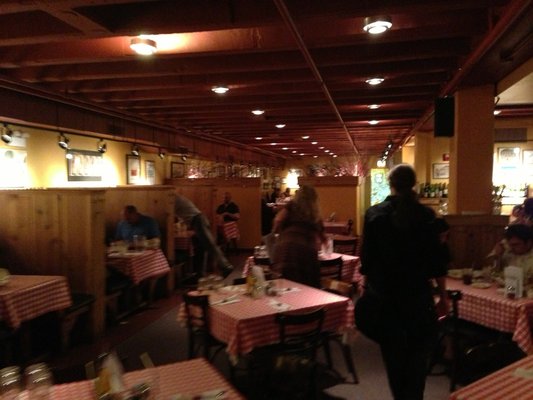 **** (4 stars)
Dave's may have the best wine list in Evanston. It's certainly the best priced wine list. The selections are well thought out, good quality, and priced only a bit above retail. Weirdly, the best section of the list is Australian, where there are a number of old gems.
Food-wise, our results were good but not amazing. I really liked the Ceasar salad, and the bread was great. I was less enthusiastic about the house made pasta, which seemed heavy and overcooked. The small calzone was huge and tasty, although next time I'll make sure to get one with ricotta cheese in it. We didn't sample the pizza, but it looked very good.
The entrance is weird, with steps leading down to an industrial cubicle and no signs indicating where the restaurant is. But this makes it a delightful surprise to open the door onto a cheerful, bustling, and surprisingly large space.
Service was very friendly and attentive. We'll definitely return for another crack at that wine list.
Dave's Italian Kitchen
1635 Chicago Ave
Evanston, IL 60201
(847) 864-6000
http://www.yelp.com/biz/daves-italian-kitchen-evanston