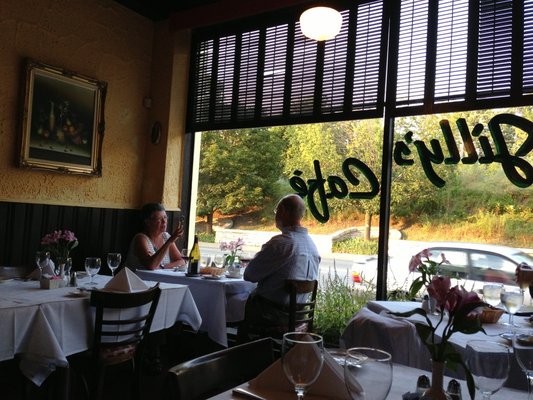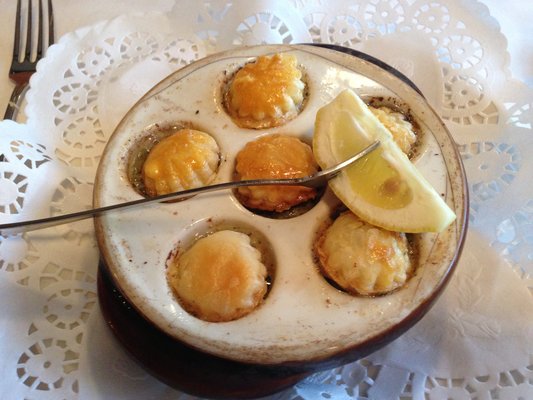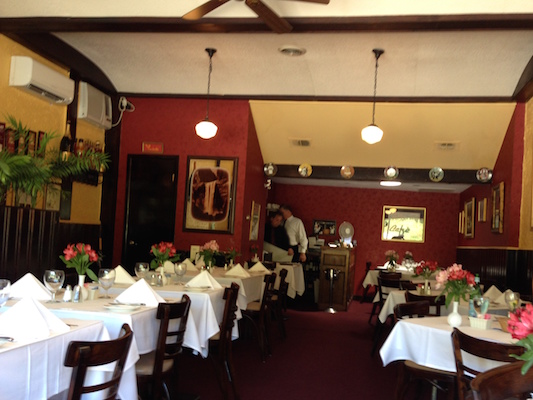 **** (4 stars)
Jilly's is a casual French cafe with friendly service and a fairly traditional menu. One of the more interesting aspects is that there are almost as many specials each night as there are regular menu items.
The meal begins with excellent crusty French bread, butter, and chicken liver pate.
I had the escargot, which were the traditional preparation, topped with small croquettes and served with a slice of lemon. The escargot and garlic butter were good, especially with the French bread. I'm not sure the croquettes and lemon added a lot.
My second course was my favorite, a poached pair and bleu cheese salad. It had just the right mix of bitter and sweet ingredients.
An intermezzo of pinot noir sorbet cleared the palate.
For my entree I selected their specialty, the skinless duck breast and confit. Both were good, but the breast was swimming in a very sweet sauce, so I stuck with the confit.
Service was extremely friendly at all the tables, and they were reasonably busy on a Tuesday night, with a crowd composed of about half regulars. Wine prices is reasonable, although the website version of the wine list is out of date.
Jilly's is a good choice if you are in the mood for traditional French food in a friendly atmosphere.
Jilly's Cafe
2614 Green Bay Rd
Evanston, IL 60201
(847) 869-7636
http://www.yelp.com/biz/jillys-cafe-evanston