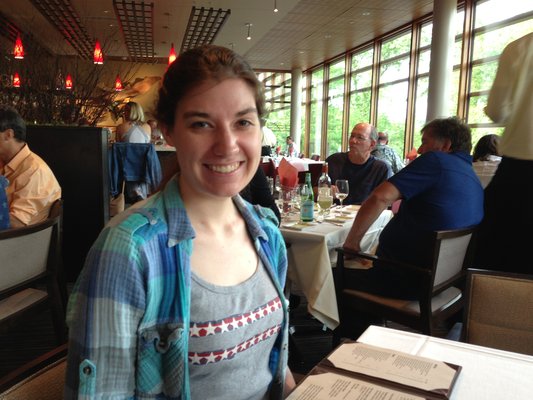 **** (4 stars)
Ravinia is a great outdoor environment for seeing a concert, whether on the lawn with your own picnic or under the pavilion. We enjoy both.
When we eat on the lawn we bring a picnic and rent chairs and tables to avoid the hassle of carrying them on the Metra. It costs less than $20 for the whole deal. If we run low on food or wine we pick some up at RAVINIA MARKET, which has a nice selection of prepared foods and some pretty darn good wines–although nothing cheap.
Last summer we ate many times in MIRABELLE, the downstairs buffet. There are quite a few good items–and a few misses–but it's fairly expensive for what it is. Sometimes there is a bundled deal that includes pavilion concert seats and dinner. That's a good deal.
The nicest restaurant is PARK VIEW, which is upstairs. It's certainly a stunning setting, with a glass wall that overlooks the dazzling green of Ravinia Park. Best of all is being high above the sea of colorful people blanketing the lawn. Some of the food is rather pedestrian (guacamole with a lump of crab meat on top was a recent featured appetizer), but a few items are quite good.
All the restaurants are run by Levy Restaurants, which is not my favorite chain. To staff Ravinia, they borrow chefs from Spiaggia and other places within their organization. It must be weird to run a restaurant that is only open a few months a year, and the slightly amateurish service is a telling detail. But for the most part things run efficiently, and the food is good if not great.
Three stars for food, 5 stars for location.
Ravinia Park Restaurants
201 St Johns Ave
Highland Park, IL 60035
(847) 432-3060
http://www.yelp.com/biz/ravinia-park-restaurants-highland-park-2